| | | | |
| --- | --- | --- | --- |
| Cover them with Glitter | Beautiful Arrangements | Gift Baskets | Holiday Wreaths |
We hand select every cone for beauty and natural perfection.
If you prefer smaller or larger cones, please be sure to let us know when you order and we'll do our best to accommodate your requests with what we have available. We can provide you with Bulk Pine Cones, Jeffery Pine Cones, Sugar Pine Cones, and much more. We also have Sequoia pinecones now in Stock!! Scroll below.
Lodgepole Pine Cones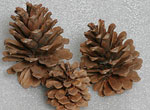 Lodgepole Pine Cones are small pine cones approximately 1.5 inches to 2.5 inches, perfect to glue on wreaths or when smaller cones are needed. They have beautiful 2 color markings with auburn red in the center and dark tips.
$25 for 50 cones or $40 for 100 cones
Lodgepole Pine Cones are in Stock
Jeffrey Pine Cones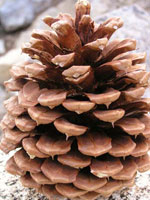 The traditional Tahoe Cone. Each cone is hand selected for near-perfection. These cones have small but very sharps spikes than can be broken off and removed.
These cones average 5" to 8".
Jeffery Pine Cone Prices
First Dozen - $24
Additional Dozens - $20 each
* Bulk Orders *
100 cones - $150
250 cones - $250
500 cones - $450
Each cone is hand selected and can be varnished for an additional $2 each. We use top of the line marine grade varnish, allowing your cones to shine and/or last outdoors for many years. We can also cover them in glitter for the holidays, or in suet and seeds to serve as bird feeders, use your imagination and let us create it for you! If you want green needles, let us know!
Jeffrey Pine Cones are in Stock
Sequoia Cones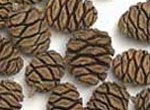 Giant Sequoias pine cones are very small in size and extremely rare. They range from about 1 to 2 inches. We have over 3000 in stock right now! $20/dozen. $30/2dozen. $90 for 100 cones. Call for higher quantities.
Sequoia Cones are in Stock
Sugar Pine Cones

Sugar Pine Cones vary in size from 4 inches to over 16 inches. They are the largest cones available. These giant pine cones and their unique shape and appearance will be sure to add charm to any application you choose.
Sugar Pine Cone Prices
Medium 9 to 11.9 inches: $20/3 cones $50/10 cones
Large 12 to 14.9 inches: $20 each
BULK SUGAR PINES: 1 large wardrobe box, about 70 medium cones for $180.
These cones look especially beautiful after melting the sap in the oven for about 20 minutes. You can also lacquer the cones with a marine grade spar varnish to last for a very long time, even outdoors. This can be done by us prior to shipping for a small additional fee of $5 per cone. We offer the highest quality cones on the market. Every cone is nearly perfect and carefully shipped.
Sugar Pine Cones are in Stock
Distributors
Please contact us for special distributor pricing. Individual batches of specialty cones, needles, manzanita branches, mosses, lichens or tumbleweeds are often available or can be obtained easily, please ask!
We currently have special cones that are rarely available: Coulter Pine, Western White Pine, Digger Pine, Pinion Pine, Western Hemlock, Douglas Fir, Ponderosa Pine, Tamarack Pine. Please call for pricing.
About Me
My name is Yan Campbell and I own a sign and web design/marketing shop in South Lake Tahoe. Mostly, I'm an outdoor enthusiast who hikes, skis and plays in Tahoe year round. I collect pine cones during my hikes and sell them to floral shops, artists and individuals around the country who want these cones. It's a fun way to help pay the bills while doing what I love to do.
To Order Please Call: 530-544-7058

Looking for Tahoe Lodge Syle Furniture or Mountain Decor?
Did you find this site on Google? Looking for a good SEO guy? Call me!
For a great site about the Tahoe Lifestyle and every single Tahoe Ski Cam
Please visit Tahoe Escape & Ski Cams
Looking for a great tree climber and Landscaper in Lake Tahoe?
For extra special east coast attitude and tough-love, please tell Bill we sent you! Arbor Green Landscaping
Great Tahoe & Business Links
SEO, Website Design and Maintenance by
Alpine Designs and RankHigh.com